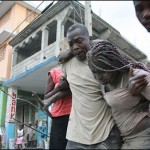 On Tuesday 12 a magnitude 7 earthquake struck Haiti causing near total destruction and widespread loss of life.
Estimates of the death toll vary from 30,000-100,000 casualties, with most news agencies picking the figure of 50,000 casualties on the first day.
To put this figure into some kind of context, that's:
This figure is certain to rise as many have been left without shelter, food, water or basic healthcare.
Aid charities and NGOs from around the world are mobilising, and I encourage you to help if you can.
Here are just a few:
Image from the BBC world service.