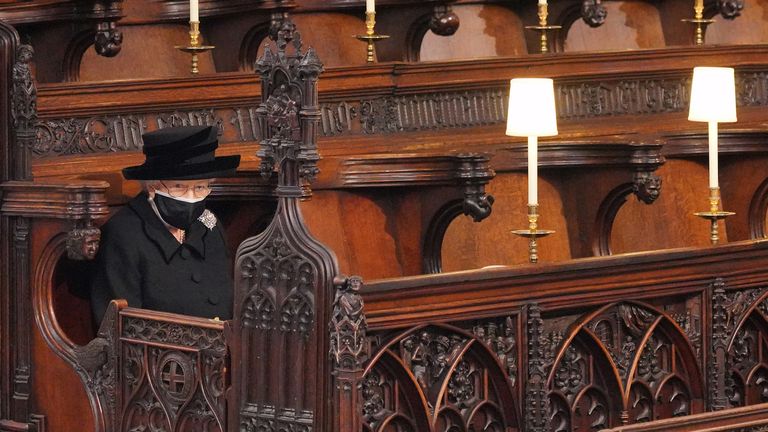 I am not a royalist.
Indeed, I'm very much a republican. I don't wish the Queen any personal ill will, I just think that the concept of a monarchy in $CurrentYear is anachronistic and should be done away with.
Caveats out of the way, this now famous picture is heartbreaking on a human level. The Queen, sitting alone due to COVID regulations, receiving no comfort at this, the funeral of her husband of 70 years.
This funeral, limited to 30 people socially distanced, happening the day after a rawkus party held at No. 10, where Boris and top civil servants danced and boozed the night away.
All contravening the laws they forced on the rest of us. Rules for thee…
How many of us were unable to see family or friends during this time? Weddings cancelled? Loved ones you couldn't say goodbye to? How many people were fined or arrested for breaking COVID restrictions in the smallest and most meaningless way?
Let us talk plainly.
The Government, civil service, and presumably the opposition as well, were in receipt of the best intelligence about COVID. They knew details that we weren't privy to, and had meetings with scientific advisors. They knew more than anyone in the country as to COVID's origins and the threat it posed. Then, based on that information, they all decided that having a party with hundreds of people (in violation of the laws they inflicted on the rest of us) was an acceptable risk and nothing to worry about.
In other words, COVID wasn't all that deadly. This isn't about public health. It never has been.
The people who knew the most, and saw fit to place authoritarian restrictions on the masses which weren't even seen during war time, weren't worried about it in any way.
In other words, the Government lied.
Never listen to these scum. They don't deserve your obedience or respect.